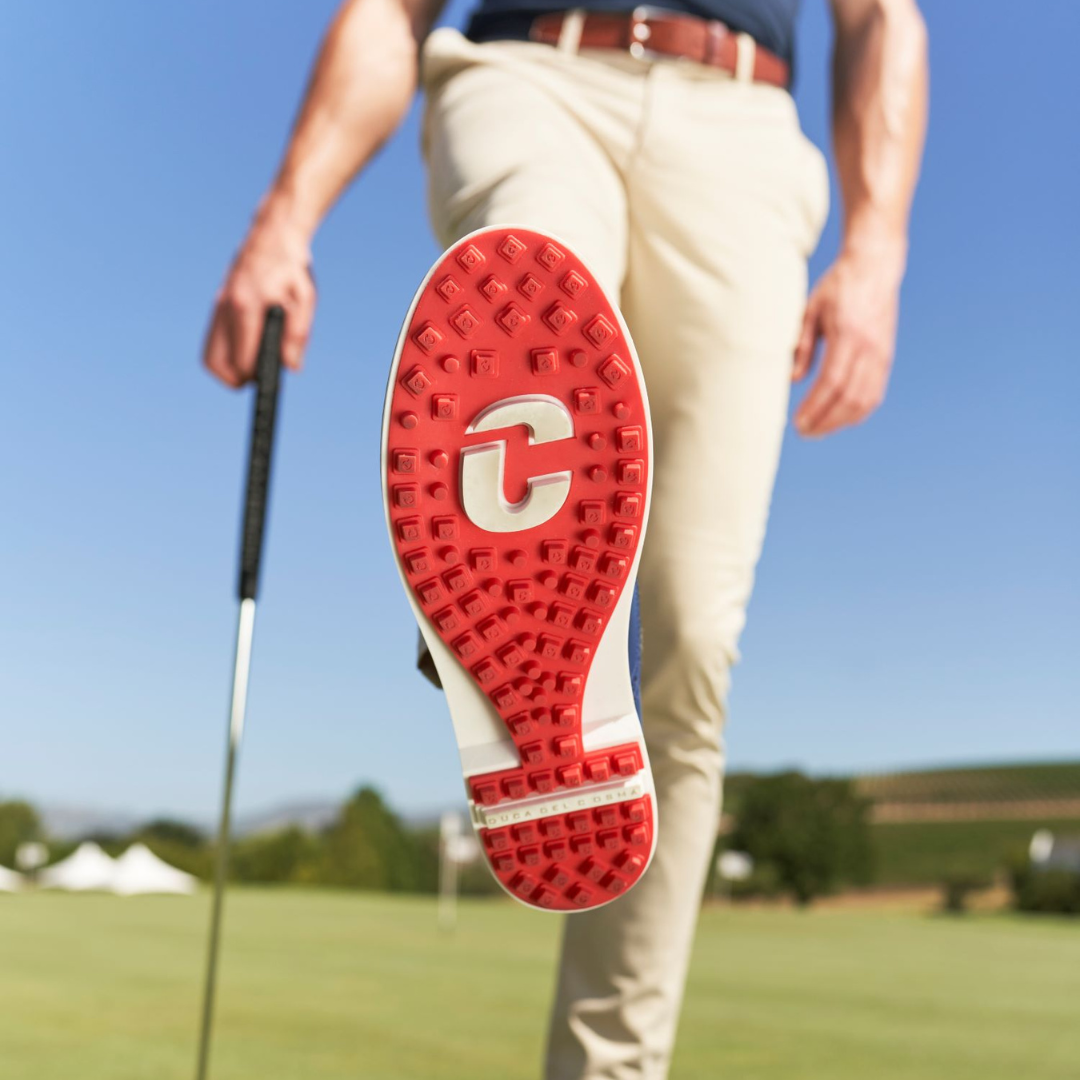 Men's Spikeless golf shoes
Buy the original Men's spikeless golf shoes at Duca del Cosma. Spikeless is the top-selling style of golf footwear worldwide, and it's not hard to see why. These shoes offer numerous advantages, with one of the most compelling reasons being the comfort they deliver to golfers. Spikeless golf shoes have a softer and more flexible sole. This reduces pressure on the feet while walking, lowers the chances of blisters and friction, and allows for greater freedom of movement. These benefits can help you focus on your game, perform better, and prevent fatigue. We have an amazing range of men's waterproof spikeless shoes which help you in all weathers or even our men's winter golf shoes & Boots
MEN'S SPIKELESS GOLF SHOES FOR GREATER COMFORT
Men's spikeless golf shoes have earned their reputation as the top-selling style of golf footwear worldwide, and it's not hard to see why. These shoes offer numerous advantages over their traditional spiked shoes, with one of the most compelling reasons being the unparalleled comfort they deliver to golfers.
Unlike spiked golf shoes, spikeless golf shoes have no metal spikes, resulting in a softer and more flexible sole. This reduces pressure on the feet while walking, lowers the chances of blisters and friction, and allows for greater freedom of movement. These benefits can help you focus on your game, perform better, and prevent fatigue.
ADVANTAGES OF SPIKELESS GOLF SHOES
Unmatched Comfort: The absence of metal spikes in spikeless golf shoes translates to a more forgiving sole. This means less pressure on your feet as you navigate the course, reducing the likelihood of blisters and friction. Furthermore, this added comfort allows for a greater range of motion, enabling you to swing with ease and focus on your game, all while minimizing fatigue.
Lightweight Design: Spikeless golf shoes for men are generally lighter in weight compared to their spiked counterparts. This weight reduction not only contributes to overall comfort but also conserves your energy throughout the game. It's a crucial factor for maintaining peak performance, especially during longer rounds.
Versatility: One of the standout features of spikeless golf shoes is their versatile design. These shoes are not limited to the golf course; they seamlessly transition to other settings, making them a multifunctional investment. Whether you're heading from the fairway to the clubhouse or even out for a casual day, you won't need to change your footwear.
Superior Grip: Duca del Cosma spikeless golf shoes are known for their excellent grip on the golf course. This is achieved through the strategic placement of rubber nubs on the soles, which provide exceptional stability and traction, even on slippery greens. Additionally, these nubs are easier to clean compared to metal spikes, contributing to the durability of these shoes.
In conclusion, if you're in search of golf shoes that prioritise comfort, grip, and versatility, spikeless golf shoes for men are the ideal choice. Their soft and flexible sole reduces fatigue, while their lightweight design ensures you stay energized throughout your round. Duca del Cosma offers a range of spikeless golf shoes that are not only functional on the course but also stylish enough for other occasions. Elevate your golf game and enhance your comfort with a pair of spikeless men's golf shoes, available in UK sizes 6 to 13. Order yours today and experience the difference for yourself!
Looking for more Golf Shoes for men? Try Men's Waterproof Golf Shoes or Men's Golf Shoes