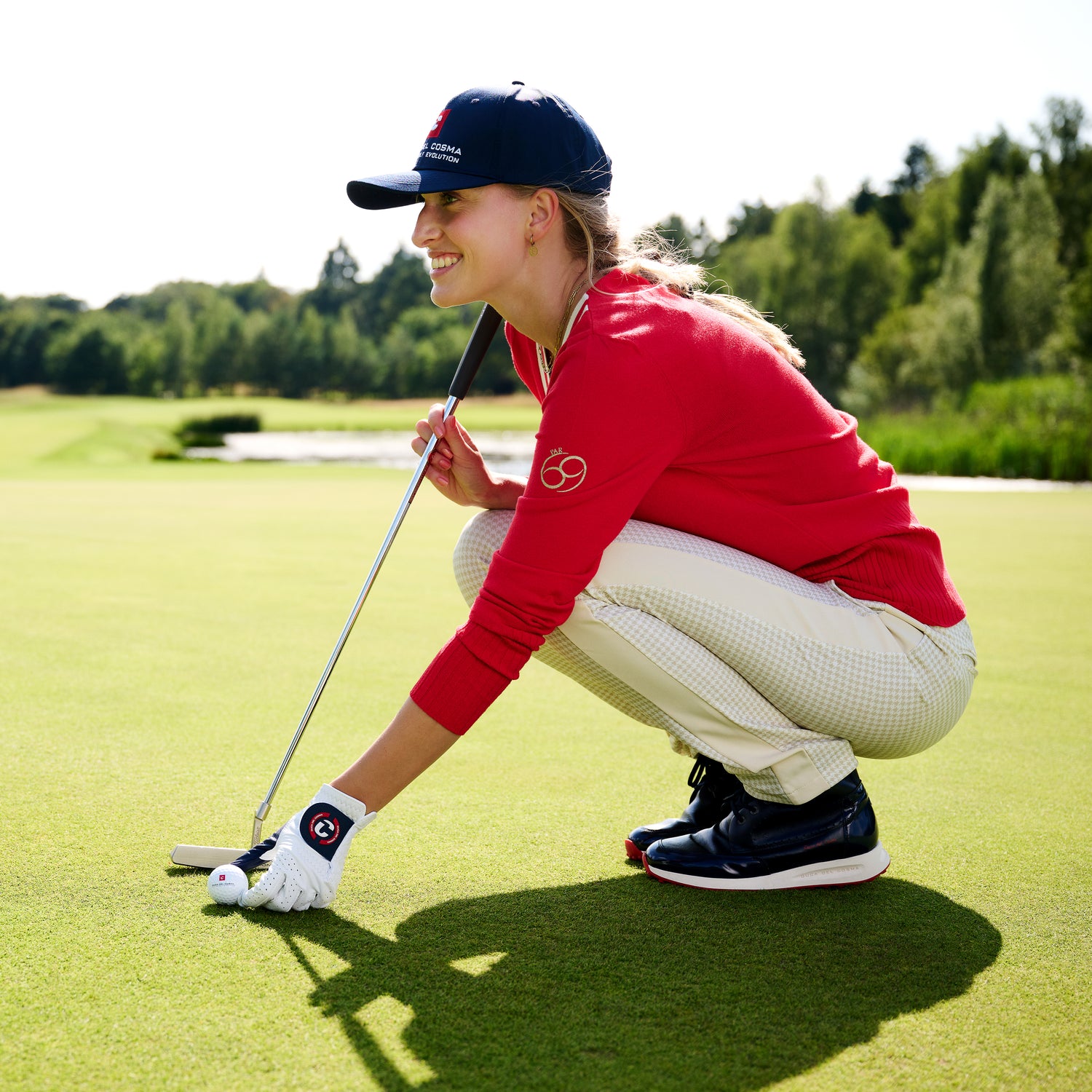 Women's golf shoes & BOOTS
Premium women's golf shoes and boots from Duca del Cosma. Embrace unparalleled comfort, and aim for peak performance while on the golf course. We have an extensive range of women's waterproof golf shoes and boots designed specifically for winter golf! If you are looking for a shoe that you can wear all year round from course to clubhouse then look at our women's spikeless golf shoe range giving you the ultimate flexibility. Complement your golf attire by choosing Duca del Cosma's women's golf gloves tailored and crafted from high-quality Cabretta leather.
WOMEN'S GOLF SHOES THAT ELEVATE YOUR GOLF GAME
When it comes to excelling on the golf course, having the right equipment is essential. One often-overlooked piece of gear that can significantly impact your game is the choice of footwear. Duca Del Cosma UK, a renowned name in the world of golf fashion, offers an impressive range of women's golf shoes designed to help you perform at your best. Whether you're looking for spikeless golf shoes or waterproof options, Duca Del Cosma has you covered.
WATERPROOF GOLF SHOES FOR WOMEN: CONQUER ANY WEATHER
Golfers know unpredictable weather can be a challenge on the course. Duca Del Cosma UK understands this too, which is why they offer a range of women's waterproof golf shoes. These shoes are designed to keep your feet dry and comfortable, no matter the weather conditions.
The waterproof technology used in these shoes is top-notch, ensuring that your feet remain dry even in wet and soggy conditions. This is not just a matter of comfort but can significantly impact your performance, as wet feet can lead to discomfort and distraction on the course.
Additionally, these waterproof golf shoes are not just functional but also stylish. Duca Del Cosma UK has taken care to ensure that their waterproof options are as fashionable as their other golf shoe offerings, allowing you to express your personal style even in challenging weather.
SPIKELESS GOLF SHOES FOR LADIES: FASHION MEETS FUNCTIONALITY
Duca Del Cosma UK's collection of women's spikeless golf shoes combines fashion-forward design with high-performance features. These shoes are designed to keep you comfortable throughout your round while ensuring you look stylish on the greens. Crafted with precision and attention to detail, they offer the perfect blend of style and functionality.
One standout option is the Duca Del Cosma Women's Spikeless Golf Shoes. These shoes feature a sleek and modern design, making them a fashionable choice for any golfer. The spikeless outsole provides excellent traction without damaging the course, allowing you to move with confidence and stability.
The cushioned insole and premium materials used in these shoes ensure that your feet stay comfortable even during long rounds. Whether you're teeing off or sinking a putt, you'll appreciate the support and comfort that these shoes offer.
Elevate Your Golf Game with Duca Del Cosma
In the world of women's golf shoes, Duca Del Cosma UK stands out for its commitment to quality, style, and performance. Whether you prefer spikeless golf shoes for their versatile design or waterproof options to tackle any weather, Duca Del Cosma has the perfect pair for you.
Don't let your footwear hold you back on the golf course. Invest in the best with Duca Del Cosma UK's women's golf shoes. Visit their website to explore their full range of options, including spikeless golf shoes and waterproof golf shoes, and take your golf game to the next level. With Duca Del Cosma, you'll not only look great but also perform at your very best.
Complete your outfit with our golf gloves for women.