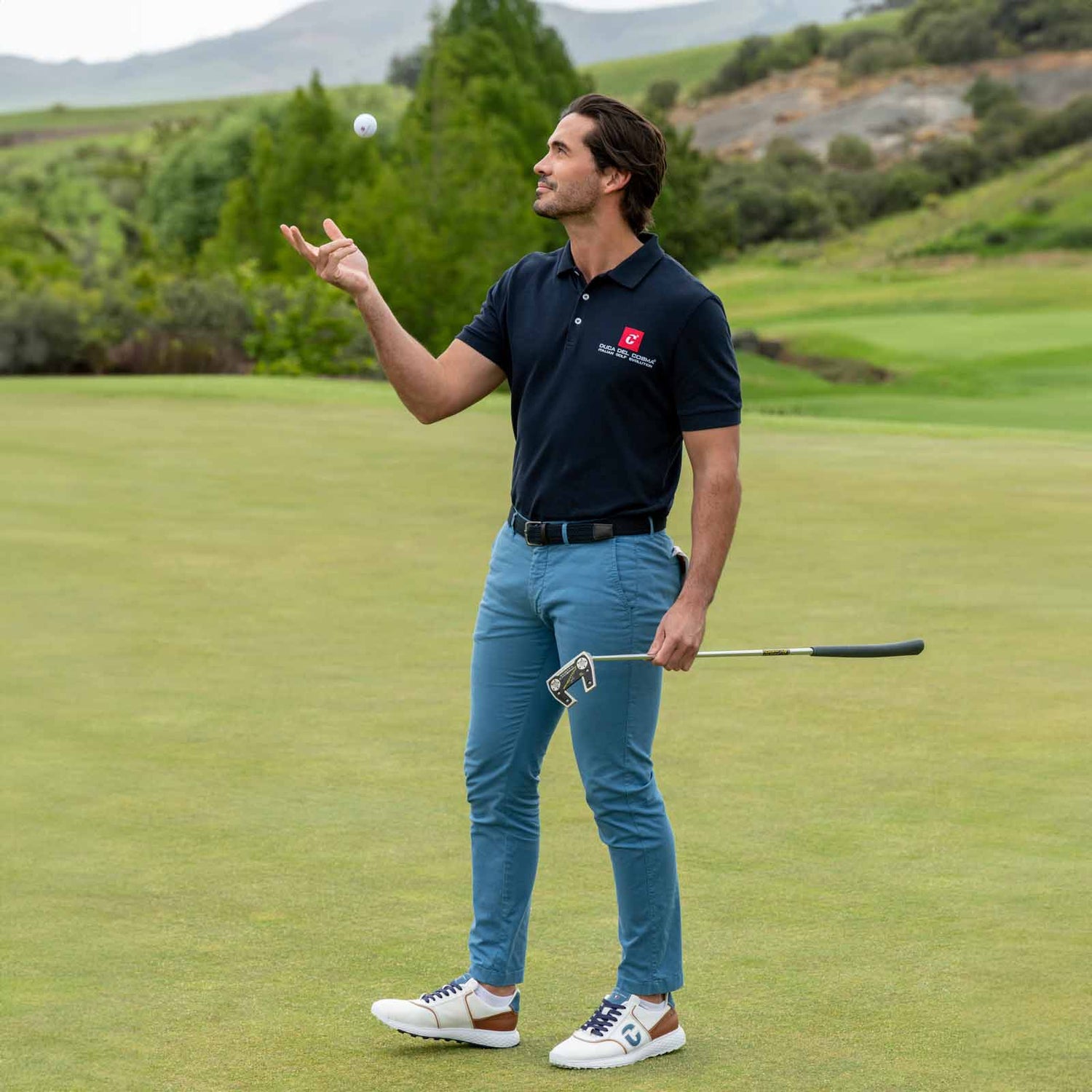 Men's golf shoes
Men's Golf shoes can make a huge difference on a players performance, just ask the
professionals that use Duca del Cosma. As a passionate golfer, you're always searching for the perfect combination of style, comfort, and performance in
your golf shoes.
All of our golf shoes are designed by our in-house team in Italy and handcrafted in Europe. Our brand has led in the development of Men's Spikeless Golf shoes setting itself apart by offering Golf Shoes that have huge flexibility in the way they can be worn on and off the course. We even have a range of award winning men's winter golf boots.
MEN'S GOLF SHOES: ELEVATE YOUR GAME WITH DUCA DEL COSMA
Duca del Cosma offers men's golf shoes for all sizes and styles of play. Our latest collection have spiked, spikeless, and casual golf shoes, with amazing comfort and tour-proven performance built in. Whether your heart leans towards timeless elegance or you're in search of state-of-the-art sports technology, rest assured you'll discover the perfect golf shoes within our selection. These shoes aren't just impeccable performers on the greens; they also leave a lasting impression far beyond the confines of the fairway.
Waterproof Men's Golf Shoes
Experience the pinnacle of performance with our waterproof men's golf shoes, boasting a standout feature – unrivaled waterproofing, courtesy of our cutting-edge MTP Aqua-stop lining. Bid adieu to worries about rainy days on the golf course, as our waterproof men's golf shoes keep your feet dry and comfortable throughout your game.
Crafted with Airplay outsoles, our shoes offer the ultimate grip and stability, the very foundation for a consistent and powerful swing. Comfort is our hallmark, and we've raised the bar with our ARNEFLEX® insole, meticulously designed for maximum comfort and breathability. You'll marvel at how our golf shoes seamlessly conform to your feet, allowing you to concentrate on your game without any distractions.
At Duca del Cosma, we're not just about golf shoes; we offer an immersive experience that elevates both your game and your style. Delay no more; make an investment in the finest men's golf shoes and elevate your golf experience with the unparalleled quality of Duca del Cosma.
Available in UK sizes: 6 to 13 and in different fits: narrow, normal, and wide. 

FREE DELIVERY AND RETURNS / MADE IN EUROPE
Looking for more Golf Shoes for men? Try Men's Waterproof Golf Shoes or Men's Spikeless Golf Shoes or men's golf boots.