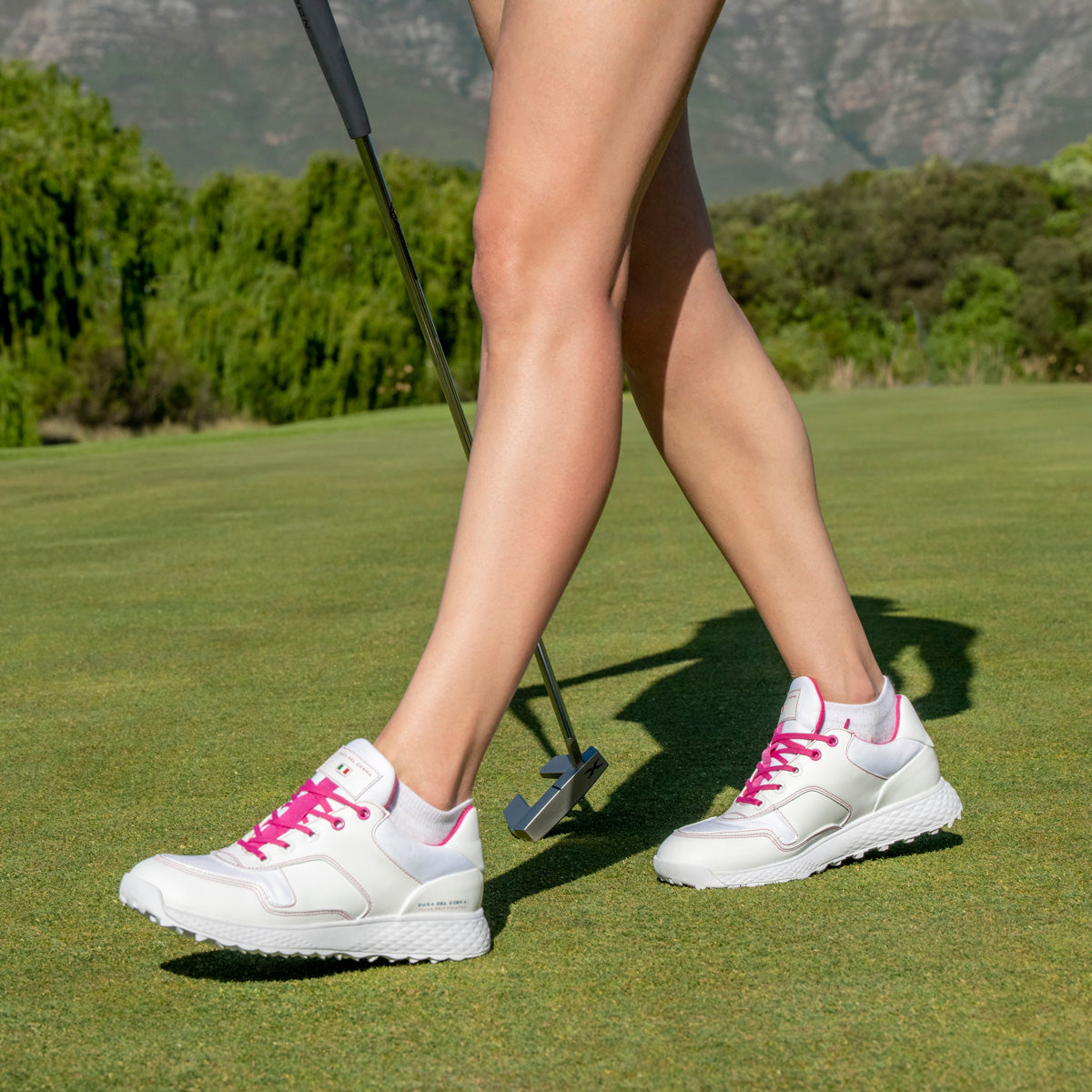 Women's Spikeless golf shoes
Women's spikeless golf shoes and boots at Duca del Cosma offer numerous advantages, with one of the most compelling reasons being the extra comfort they deliver to women golfers. They have softer and more flexible soles which make it easier to put the miles in. They reduce pressure on the feet whilst walking, which lowers the chances of blisters and friction, and allows for greater freedom of movement. They are also great because they can be worn in the clubhouse. If you are looking for even more flexibility then look at our women's waterproof spikeless shoes which can be worn all year long or our womens winter boots
Elevate Your Game with Women's Spikeless Golf Shoes
As you explore our premier collection of women's spikeless golf shoes, experience the fusion of performance, style, and function. Our range is meticulously crafted to cater to the diverse needs of female golfers seeking superior footwear for their golfing endeavors.
Unveiling the Benefits of Spikeless Golf Shoes
Discover the revolution in golf footwear with our spikeless golf shoes, offering innovative design and superior quality. These shoes provide exceptional traction without damaging the greens, offering stability, and balance without compromising the course integrity. The adaptability of spikeless soles ensures a grip during swings and walks across the course, making them a versatile choice for performance and course preservation.
Diverse Selection: Women's Spikeless Golf Boots
Our collection encompasses women's spikeless golf boots for added support and versatility. These boots offer more than a golf shoe, with enhanced ankle support and protection, ensuring stability and comfort across various terrains and weather conditions. For those seeking reliable footwear in adverse weather, our waterproof golf shoes and boots will keep your feet dry and comfortable, allowing you to solely focus on your game, rain or shine.
Golf Style, Functionality, and Comfort in Every Pair
Our range prioritizes both comfort and style. These shoes feature lightweight, breathable materials, ensuring a comfortable fit throughout your game. The innovative designs not only enhance performance but also complement your personal style, catering to various tastes, whether you prefer a sporty, classic, or trendy look on the course.
Tailored Selection for Female Golf Enthusiasts
Crafted to withstand the rigors of the game, our spikeless shoes, boots, and waterproof options provide the necessary support for an exceptional golfing experience. Find your perfect pair among our diverse selection, tailored exclusively for the needs of female golfers.
Choose Innovation, Style, and Comfort
Select our spikeless golf shoes, golf boots, or waterproof footwear to enhance your game and make a statement on the course. Experience the perfect blend of innovation, style, and comfort, exclusively designed for female golf enthusiasts. Buy online at Duca del Cosma