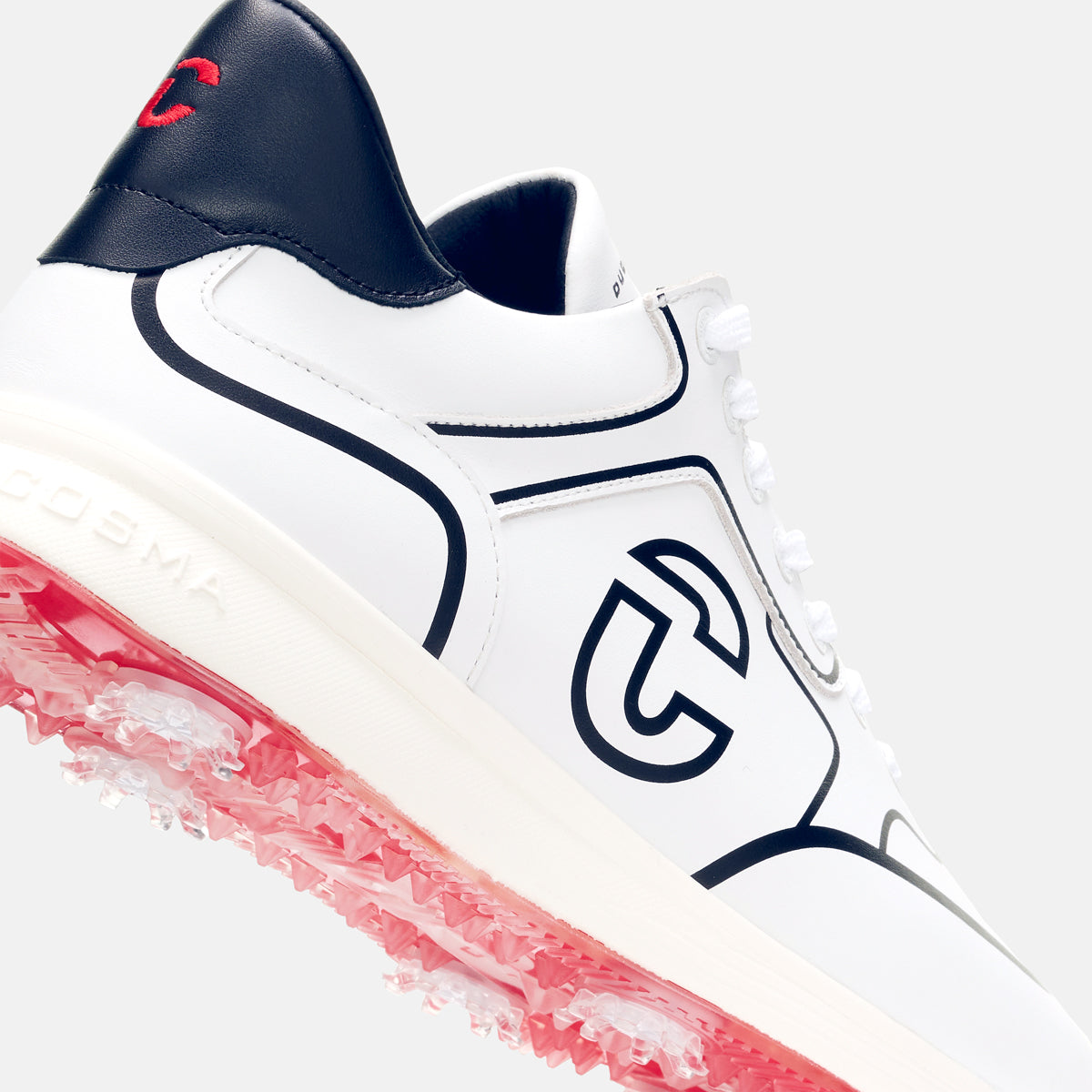 Men's Pro Spiked golf shoes
Duca del Cosma brand understand the importance of mens spiked golf shoes. They are ideal for golfers who are looking for stability, grip, and support on the golf course. Our spiked golf shoes are designed with the latest technology and innovative features, making them perfect for golfers of all levels. With high-quality materials and exceptional craftsmanship. All our Spiked shoes are waterproof and will keep you dry and comfortable in summer or the winter months.
Regular price

Sale price

£239.00

Unit price

per

Regular price

Sale price

£239.00

Unit price

per
Elevate Your Game with Men's Spiked Golf Shoes
Welcome to our premier collection of men's spiked golf shoes, meticulously crafted to enhance your performance on the golf course. Explore a fusion of style, functionality, and reliability designed exclusively for the modern male golfer.
Why Choose Duca del cosma for Your Golf Gear?
Duca del cosma offers product designed to be used by pros and amateur alike. With a reputation for premium golf shoes and a dedication to customer satisfaction, it's the go-to destination for golf enthusiasts seeking the best golf shoes.
Embrace the weather with Waterproof Spiked Golf Shoes
Experience the advantage of our waterproof spiked golf shoes, engineered to excel even in challenging weather conditions. These shoes are equipped with cutting-edge waterproofing technology, providing a protective barrier against moisture without compromising breathability. The waterproof feature ensures your feet remain dry and comfortable throughout your game, offering an edge in adverse weather conditions.
Duca the Best Waterproof Spiked Golf Shoes in the game
For the best waterproof golf shoes offer more than just protection from wet conditions. Our footwear elevate your game by providing:
Enhanced Comfort: Despite their waterproof nature, these shoes prioritize comfort, offering a snug fit and optimal support.
Consistent Performance: The waterproofing technology ensures that your golf shoes remains lightweight and does not hinder your swings or movements.
All-Weather Reliability: With our footwear, you can confidently navigate through dewy mornings, light rain, or damp courses, maintaining your focus solely on the game.
Unveiling the Advantages of Spiked Golf Shoes
Our collection of men's spiked golf shoes goes beyond style, emphasizing functionality and performance. The benefits of spiked golf shoes include superior traction and stability, essential for a powerful and controlled swing. The specialised spikes provide a secure grip on various terrains, ensuring stability during your swings and walks across the course. Additionally, the spike technology aids in maintaining your balance, contributing to consistent performance throughout your game.
Elevate your golfing experience with our meticulously designed spiked golf shoes, offering not only durability and performance but also style that speaks to the modern golfer. Find your perfect pair among our diverse selection, tailored exclusively for the needs of male golfers.